More than a year since its first concert, Sun Symphony Orchestra (SSO) has proven that Vietnamese audiences are not adverse to classical music. When the orchestra was just an idea, Music Director Olivier Ochanine dedicated his mind to his 'child' – the SSO. The French conductor talks with Việt Nam News about his attachment to the orchestra.
Inner Sanctum: It's been almost a year since the launch of the SSO. How do assess the progress so far?
It has been an honour to be part of the SSO and privilege to help develop a new standard of music making in Việt Nam. It has been a very successful year since the creation of the SSO and I am proud to say that not only have we succeeded in achieving our goals but we have also exceeded many of our expectations. Currently we are preparing the launch of our 2019-2020 season which all of us at the SSO have been eagerly awaiting. We are determined to continue presenting our audiences with premium quality concerts with the world's most recognised soloists. As we truly wish to become Việt Nam's cultural jewel, much hard work lies ahead and we all look forward to meeting this challenge.
Inner Sanctum: What challenges and opportunities have you and members of the orchestra faced during the past year?
Creating a new orchestra is difficult, however the unique opportunities and challenges have inspired the best in all of us at the SSO. We are all committed to sharing our love for music and feel a responsibility to enrich the community with our knowledge. The orchestra is comprised of many different nationalities, both Vietnamese and international. Developing an understanding for each other takes time and patience. Fortunately for all of us, music's uniqueness as a universal language connects all of us to our mission.
The SSO currently has 45 permanent musicians on its roster, however in the near future we are projected to expand. Our international musicians come from 20 different countries; from as far as Venezuela and as close as Thailand. It never ceases to amaze me how easily an orchestra can bring together such a diverse group of people. Such is the power of music.
Inner Sanctum: You have said that the selection of SSO musicians is quite tough. What is the most important requirement?
To be part of the SSO it is not enough to just master your instrument. One must also subscribe to SSO's mission, which is to educate, inspire and connect with the people of Việt Nam through music. We are part of something that is bigger than ourselves.
Inner Sanctum: It has been said that SSO plans to sell tickets for its performances in 2019. Does this contradict the 'non-profit' spirit that was mentioned when establishing the orchestra?
In the near future the SSO will be going public with a ticket selling plan for our concerts. This should not be confused with the 'non-profit' spirit that we had mentioned before. It is all a question of perception. What does one consider the worth of the product that we produce? We believe here at the SSO that our value is spiritual and not just about entertainment.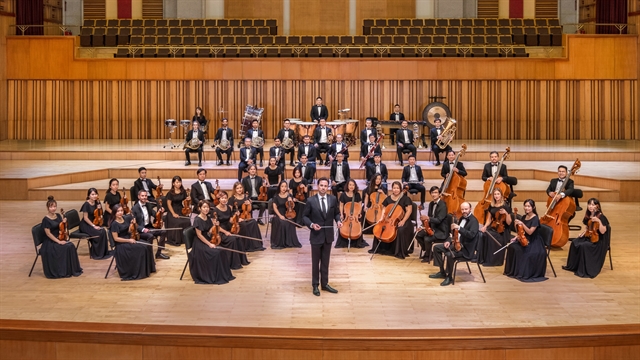 Inner Sanctum: Is your mission to upgrade Vietnamese classical music tastes toward international standards a bigger priority than bringing classical music closer to the community? These two goals don't seem to go together.
By bringing the public closer to classical music, you automatically upgrade classical music tastes. They are synonymous. I can give you an example with coffee. In Asia, particularly in China, coffee sales used to be almost non-existent. But recent studies suggest that soon it will soon surpass tea as the country's beverage of choice. Gourmet coffee is the latest trend. Exposure is the key. Value will always win out.
Inner Sanctum: Alongside compositions by world-famous composers, does the SSO pay attention to works by Vietnamese composers?
One of the missions of the SSO is to become an integral part of Việt Nam's cultural community; that includes performing and promoting works by national artists. This past season we have presented works by notable composers such as Đỗ Hồng Quân, La Thăng and Đặng Hữu Phúc. By contributing to the country's musical heritage in this way we bring symphonic music closer to the people. This is very important work for the orchestra and I look forward to continuing Việt Nam's classical music tradition.
Inner Sanctum: Can you share with us the SSO's strategy for the near future?
The SSO aims to enrich the cultural community of Hà Nội and put the city on the international artistic map. Việt Nam is growing exponentially and we are extremely pleased to be part of the journey.
I am excited to say that our 2019-2020 concert season will be announced soon. It is something that the SSO is very happy and proud to be presenting. Stay tuned.
Inner Sanctum: Last, could you tell us a bit about your experiences living and working in Việt Nam?
More than one year has passed since the SSO was created. I have been here from the beginning when the orchestra was just an idea. I am overwhelmed by how much love and dedication has been put into this project. It is a testament to the will and the determination of the Vietnamese people. I am honoured to be a very small part of this beautiful country's new future. VNS
Read more at http://vietnamnews.vn/sunday/inner-sanctum/519264/french-music-director-relishes-a-challenge.html#giqZYfZ0czHQoykt.99